T H EE N S E M B L E
JONE SAN MARTIN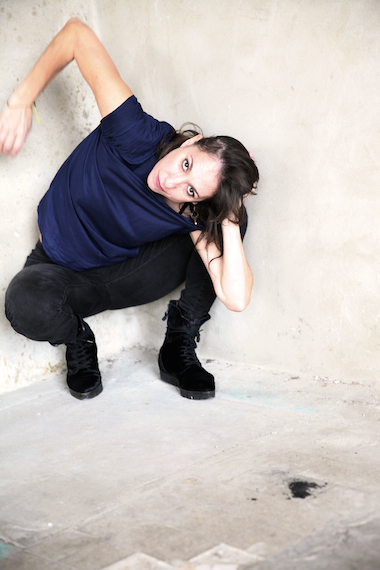 Jone San Martin © Dorothea Tuch
"Dance has no age. If dance is about relating movement, space and time, it all depends on how we want to define them. Instead of following models about how dance should evolve, I prefer to create new paths that could assure dance a future and a longer life in our bodies. Dance reaches beyond the body and the body reaches beyond its physical conditions. It's a question of transgressing limits, especially the ones in our minds. Let's dare to do it!"
Jone San Martin


DANCER (Nov 2015 - May 2018)

Jone San Martin, born in Donostia/San Sebastian, Spain, in 1966, studied dance with Mentxu Medel at the Institut del Teatre in Barcelona and at Mudra International in Brussels.



She was a dancer at the Ballet Nacional de España, at Ulmer Theater, with Jacopo Godani in Brussels and at the Ballet Royal de Wallonie in Charleroi. She joined Ballett Frankfurt in 1992 and had been a dancer at The Forsythe Company since 2005. Since 2000, she has choreographed many of her own works. She was a guest at the Avignon Festival in 2004 where she performed the solo "Tourlourou", created for her by Carlotta Sagna, as part of the 'Sujets à Vif' series. In 2006, she received the Lifetime Achievement Award from the Asociación de Profesionales de Danza de Gipuzkoa. Since 2014, she is Associated Artist of Dantzaz Kompainia in Donostia. She will be curating the Performing Arts Programme for DDSS16 (Donostia/San Sebastian will be Cultural City in Europe in 2016).

Professional Experience

With the Ballet Frankfurt
"As a Garden in this Setting 1", "Quinttet", "Ali(e)n Action", "The The", "Sleepers Guts", "Small Void", "Opus 31", "We leave here", "Decreation", "The Room as it was", "7 to 10 Passages", "Kammer/Kammer", "Endless House", "Eidos Telos"

With The Forsythe Company
"Three Atmospheric Studies", "Clouds after Cranach", "Heterotopia", "Human Writes", "Angolo Obscuro", "Theatrical Arsenal", "Yes, We Can't", "I Don't Believe in Outer Space", "The Returns", "Whole in the Head", "Sider", "Stellenstellen", "Study #2", "Study #3", "Selon"

Own Works
2000 "Juana La Otra" (Solo), Bockenheimer Depot, Frankfurt a. M.
2001 "Ser Estar y Parecer", Bockenheimer Depot, Frankfurt a. M.
2003 "Remote Versions", Bockenheimer Depot, Frankfurt a. M. (with Agnès Chekroun and Fabrice Mazliah)
2004 "Double B(l)ind", Bockenheimer Depot, Frankfurt a. M. (with Agnès Chekroun and Fabrice Mazliah)
2007 "Hostis", Bockenheimer Depot, Frankfurt a. M. (with Agnès Chekroun)
2009 "Derivado" (Solo), Dantzaldia, Bilbao
2010 "Gorputitz", Creation for Dantzaz Kompania, Donostia/San Sebastian
2012 "Agurra Barnean", Creation for Kukai Kompania, Donostia/San Sebastian
2013 "Ni Espioi", Creation for Dantzaz Kompania, Donostia/San Sebastian
2013 "Legitimo/Rezo", Barcelona (with Josh Johnson)
2014 "Gidariak", Creation for Dantzaz Kompania, Donostia/San Sebastian
2014 "Le Bolle", Bassano Del Grappa, Italien (with Sandra Marín und Josh Johnson)

Collaboration with Carlotta Sagna
2004 "Tourlourou" (Solo), Festival d'Avignon, 'Sujets à Vif'
2010 "C'est Même Pas Vrai" (Solo), Paris (produced by The Forsythe Company)

Performance in Films/Videos
"The Mind of Doctor Forsythe", Installation Film Fabric Belgique
"The Way of the Seed", Film Fabric Belgique
1996 "Jonemanak" by Nerea Pagola
2004 "Meat Me", arte-short film (6 min.), camera and cut: Lutz Gregor, concept and choreography: Jone San Martin with Chekroun and Fabrice Mazliah


Interview with Jone San Martin
In Evening Programme 2
"I still have questions"
Jone San Martin could – but doesn't – tell her story in the sugary, sentimental way we know from Hollywood films: one day, an aunt was watching her playing double Dutch and said to Jone's mother, "That girl should go to ballet school." Jone thought so too, which is how her dance life began in 1973, starting ballet class at the age of seven in Donostia (the Basque name for San Sebastián) where Jone grew up.
She describes Donostia as a very beautiful city on the sea with mountains behind you, and a great place for kids, despite the numerous Spanish police officers she remembers watching over the Basques, suppressing their wish to be independent. Jone learnt Basque at the first Basque language school, which was founded in Donostia.
"Minorities are always fighting to protect their identity,"
she says,
"particularly their language and culture. You feel responsible for it. You learn to love your country and to defend it."
Today, she looks ahead: how can we live in appreciation of cultural differences rather than turning them into a problem? How can we enjoy each other?
Maybe this is why Jone finds it easy to switch from one location or country to another, to live a nomadic life. At 15, she moved to Barcelona to study classical dance. It was here that she heard about Mudra International, Maurice Béjart's dance school in Brussels. She had seen pieces by him in San Sebastián and particularly liked his staging of male dancers, who were choreographed as modern men on stage. She went to Brussels and became a Mudra student.
She left the then famous school in 1985 without a job to go to. She went from one audition to the next without success: she was too modern for classical companies, too classical for modern companies. She wanted to give up, but didn't, thanks to Béjart. They happened to meet and he encouraged her to keep going. She became an 'independent dancer' and took every job going.
"The best job was having a job,"
she says, which was enough to make her happy.
She realises that today's young dancers are far choosier. She's happy she had this experience and is convinced that this period of her life has made her the dancer she is today – along with her long-term partnership with William Forsythe. She discovered his work through a friend and seized the opportunity to work with Forsythe dancers in Paris as well as to audition for him. She will never forget the moment he stood up and said, "Welcome to the Frankfurt Ballet." She was stunned. It was working with Forsythe that 'shaped' Jone: working in the studio until she was completely exhausted; the freedom he allowed his dancers.
"Many people think that if you work with Forsythe he'll tell you what you have to do,"
she says.
"It's totally wrong. You're very much left to your own devices. You develop your own ideas."
She understood Forsythe's decision to close the company
a
nd was very grateful to have been able to work with him for 22 years. It couldn't have been better, she says. She had choreographed her own works and learned how to be open to new challenges and encounters. She also finds artistic freedom in the DANCE ON ENSEMBLE. Questions about her age and how long she will continue dancing are completely irrelevant to Jone.
"DANCE ON isn't there to show that we can still dance,"
she says.
"It's far more than that. It's about questioning the art form and working on answers and new questions."
Jone says that no one in the ensemble is resting on their laurels and that everyone is curious about the other dancers and the choreographers, directors and visual artists they'll be working with.
"It's a wonderful experiment,"
she says.
"I love coming into the studio every day and asking, 'What are we doing today?'"
For her, this is nothing short of luxury. Who knows what Rabih Mroué is planning for the coming weeks? Jone knows only one thing for sure: she still has questions about dance that can only be solved through dance.
The other DANCE ON ensemble members: