P A R T I C I P A T I O N
PRODUCTIONS
Lifelines (c) Dorothea Tuch
Impuls 13
A dance piece by 13 women over 60.
Premiere: 08 September 2019, 6 pm, 12 Apostelkirche, An der Apostelkirche 1, 10783 Berlin
Additional performance: 12 September 2019, 7 pm, Kiezzentrum Villa Lützow, Lützowstraße 28, 10785 Berlin
Free entrance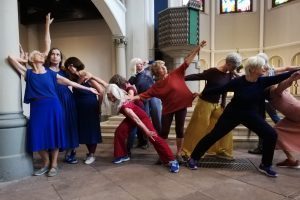 Concept/Choreography: Laura Böttinger
Dance: Jutta Barth, Eva Günther, Angela Haardt, Gudrun Korittke, Martina Krause, Walburga Pauels, Joan Plank, Angelika Pohlig, Ingeborg Rasch, Rosa-Maria Rose, Monika Ungruhe, Bärbel Walter, Maria Wollny
With support by Künstlerhaus Lukas
Thanks to Tanzfabrik Berlin
© Dorothea Tuch
Life Lines
In the frame of OUT OF NOW – DANCE ON Festival
Concept/Choreography: Martin Nachbar and Laura Böttinger
Sound: Boris Hauf
Cast: Ingeborg Rasch, Walpurga Pauels, Maria Wollny, Volker Sobottke, Gudrun Korittke, Joan Plank, Doris Breitenbach, Eva Günther
Production: DANCE ON/DIEHL+RITTER. Thanks to Tanzfabrik Berlin.
Developed in collaboration with Martin Nachbar, Laura Böttinger and the dancers of the DANCE ON ENSEMBLE with amateurs 60+, Life Lines builds on the idea of a living archive within each moving body that lights up whole stories through minimal and everyday movements. Action, embodiment, space, and courage are four components that direct the performers in the process towards choreography.