P A R T I C I P A T I O N
WORKSHOPS
Since the beginning of the Corona crisis, the director of Dance On Lab, Laura Böttinger, has been giving public online workshops for older people at home.
Upcoming dates will be announced here.
Past dates:
9.06.2020
30.04.2020
Workshop at the Onassis Stegi in Athens
with Laura Böttinger and Christine Kono
06 November 2019
On the occasion of the premiere of "You should have seen me dancing Waltz" by the Dance On Ensemble at the Onassis Stegi Theater in Athens, Laura Böttinger and Christine Kono conducted a workshop for the in-house amateur group 65+Company.
© Pinelopi Gerasimou
Workshop scholarship at Künstlerhaus Lukas, Ahrenshoop
with Laura Böttinger
05-18 August 2019
In the ten-day choreographic laboratory, Laura Böttinger works together with the project participants at Künstlerhaus Lukas to develop approaches to her own choreographic traces.
The participants will use research processes in nature as a starting point. Where do I leave traces and are they always comprehensible? What traces do my movements leave on others?
The results of the laboratory will be presented to the public and put up for discussion during the Long Night of Art at the end of the stay at Künstlerhaus Lukas. In addition to a performative presentation, the team opens its doors and invites interested amateurs to the workshop to get to know the principles of the Choreographic Laboratory.
Public presentation during the 20th Long Night of Art on 17.08.2019, 7 & 8 pm, Neues Kunsthaus in Ahrenshoop.
The workshop scholarship at Künstlerhaus Lukas is funded by the state of Mecklenburg-Vorpommern.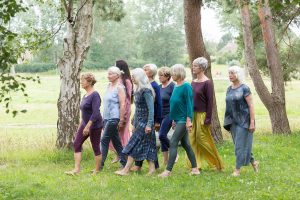 Workshop in the frame of  Tanzland cooperation with Lessingtheater Wolfenbüttel
with Laura Böttinger
09-13 Oktober 2019, Lessingtheater  Wolfenbüttel
Choreography Lab in Cooperation with Lessingtheater Wolfenbüttel
With Laura Böttinger & Gerda Raudonikis
For participants 50+
10 - 14 October 2018, Lessingtheater Wolfenbüttel
The workshop Choreography Lab focused on the development of choreographed and improvised performance material. The aim was to develop strategies to stimulate creativity and rediscover the diversity of dance.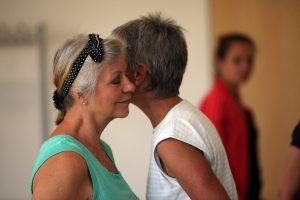 © Lessingtheater Wolfenbüttel
DANCE ON LOCAL
With Martin Nachbar and the DANCE ON ENSEMBLE
Dance amateurs aged over 50 and professional dancers are coming together on an equal footing in a project by and with the choreographer Martin Nachbar: while members of the DANCE ON ENSEMBLE are bringing their many years of dance experience to the project, dance amateurs are doing the same with the specific skills they have acquired in the course of their lives. Together, they will develop an artistic format that picks up on the practices of the DANCE ON dancers and translates them in such a way that interested amateurs can benefit from generating movement material and dancing together.
First formats were already developed in two workshops in February and April 2017 in the Berlin Uferstudios, which were then deepened in July 2017 during a residence week at Schloss Bröllin with other participants from Pasewalk and the surrounding area.

© Dorothea Tuch
The Schloss Bröllin association is supported by the Ministry for Education, Science and Culture of the State of Mecklenburg-Vorpommern and the Region of Vorpommern-Greifswald