OUT OF NOW
DANCE ON FESTIVAL
28/02. – 04/03/2018 | HAU Hebbel am Ufer Berlin
With productions by Deborah Hay, William Forsythe, Rabih Mroué, Jan Martens, Lucinda Childs, Johannes Wieland, Jone San Martin, Jonathan Burrows/ Matteo Fargion, Ivo Dimchev, Kat Válastur, Martin Nachbar/Laura Böttinger, Clovec & the 420
DANCE ON ENSEMBLE: Ty Boomershine, Brit Rodemund, Christopher Roman (Artistic Director), Jone San Martin, Frédéric Tavernini and Guests
The DANCE ON FESTIVAL with its motto "Out of Now" presents five of the productions commissioned for the DANCE ON 1st Edition. After many international tours, an invitation to the German Tanzplattform and rave reviews of the ensemble's brilliance and expressiveness, they will be shown in Berlin for the very first time. Also part of the festival's programme are several premieres, contributions from other artists and collaborators, open dialogues, films, installations, a participatory project with seniors from Berlin, and open classes and workshops.
The full programme and tickets here: www.hebbel-am-ufer.de
Ticketing starts on 2nd of January 2018
The DANCE ON Festival is funded by Berlin Senate Department for Culture and Europa and Capital Culture Fund in coproduction with HAU Hebbel am Ufer.
Media Partner:
Christopher Roman was twice named Dancer of the Year by the critics poll in tanz magazine's yearbook:
Arnd Wesemann, Berlin, tanz magazine: "Christopher Roman's concentrated experience in Dance On, the company where only experience counts."
Irmela Kästner, Hamburg, independent critic: "Christopher Roman/Dance On in Man Made by Jan Martens and in 7 Dialogues by Matteo Fargion – a limitless spectrum of dance, playfulness and embodied thinking."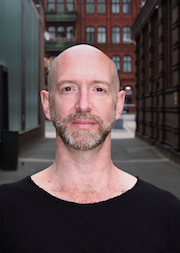 Christoper Roman © Dorothea Tuch
DANCE ON EXTENDED
show to be true – JOHANNES WIELAND
For DANCE ON EXTENDED, the ensemble has travelled to Sweden to take part in a residency with choreographer Johannes Wieland and three dancers from Compagnie Jus de la Vie / Age on Stage. Together they are creating a new piece: show to be true (working title), which premieres in Piteå on 22nd September 2017 as part of a triple bill.
© Fabian Kriese
22nd September 2017, Acusticum, Piteå  | Tickets
triple bill:
# show to be true by JOHANNES WIELAND | DANCE ON ENSEMBLE & Jus de la Vie
# Catalogue (First Edition) by WILLIAM FORSYTHE | DANCE ON ENSEMBLE
# Beauty and the Beast by MARTIN HARRIAGUE | Jus de la Vie
Additional performance:  25th September, Kulturens Hus, Luleå | Tickets 
DANCE ON LOKAL  
Martin Nachbar / DANCE ON ENSEMBLE
Residency week at Schloss Bröllin from 3-6 July 2017
Working with members of the DANCE ON ENSEMBLE and the Berlin choreographer Martin Nachbar, dance movement material will be developed in an open exchange and creative teamwork format that will be shown in a small presentation at the Schloss Bröllin art research location on 6 July.